Meet MRS. BERG
HELLO!! My name is Kendra Berg and I am the 5th and 6th grade visual arts teacher here at Hastings Middle School. This is my 8th year teaching art, and my 4th year at HMS. I spent my first 3 years teaching art at Pinecrest Elementary School. I can't wait to get to know you and begin our adventure traveling the world through art!




More About Mrs Berg:


I grew up in small town Minnesota, and earned my Bachelors of Fine Arts in Art Education from the University of MN Duluth. Afterwards, I subbed in the Duluth schools while finishing my minor in Special Education. Aside from being an art teacher I love spending time creating my own artwork!

More Random-ness:
- I got married last summer
- I love a good cup of coffee
- I enjoy going to concerts
- I went to Peru for my honeymoon and climbed M
achu Picchu!
- This summer I traveled to France and Spain!
- I wish I had a dog... and finally got a puppy this summer. Her name is Lucy!
- I've ran 4 marathons
- I love hanging out with family and friends
- I'm almost done backpacking the Superior Hiking Trail- I only have the last 20 miles to hike!
- I've sold a lot of my artwork... that makes me a famous artist... right?
- I enjoy making murals for others
Want to know even more? Here are some of my favorites:



FAVORITES!
Sport to play:
Volleyball
Sport to watch: Hockey- Go Wild! Go Dogs!
Food: Raspberries or Walleye
Color: Green
Band: Chvrches
Pop Song: Miracle
Artist: Dale Chihuly
Art Medium: Clay
Place to go: The world... or Peru, France, Spain, Italy, or anywhere Up North!
Book: Harry Potter Fo-Sure!!
Season: Summer + Winter
Instrument: I try to play guitar
Past time: Hanging out with friends and family
Holiday: Thanksgiving
Powered by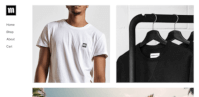 Create your own unique website with customizable templates.